Designed for all you lovebirds, kindred sprits and pals looking to sleep in the lap of luxury, soak up the the sun, marvel at the stars, and drink the wild air!
The Wild Air Suite is a turn key luxury camping setup we pop-up where ever you want and ready to rock upon arrival. Just show up with food, drinks, some clothes and your loved one! See the complete list below, but trust, we thought of ALL your needs for a comfortable, sexy, camping getaway from the linens you sleep on to the firewood, s'mores and camp chairs.
*2 night minimum, does not include campground fees
*Additional nights after the second night are only $180/night!
Determine Location & Date
Pick a location anywhere within a three hour drive of San Francisco for your Wild Air Suite. Choose private or public campground or a relative's backyard or ranch. Confirm with AO the Wild Air Suite is available and book your campsite!
OR
Hire the AO Camp Concierge Service (see details below) and we will come up with three site options for you to choose from based on your search criteria.
Bring your own food & drinks to put in the cooler we provide. New to cooking and camping? We can suggest recipes and ready made food options to make your weekend go off with out a hitch.
The suite comes stocked with all the cooking utensils and flatware you need, and an extra cooler full of ice for your drinks and any other food you bring.
Arrive at the campground during the designated check in window and be greeted by the AO Camp Concierge Staff.
We will give you a tour and make sure you know how to use everything and get you all situated and cozy in your tent.
Enjoy the weekend and then we will check you out at the end of your magical stay!
Whats Included in the Tent
16ft bell tent - waterproof, fireproof and bug proof (keep screens zipped!)
Queen Size Bed - Casper mattress & pillows, Brooklinen Sheets and Down comforter, 2 throw blankets, 4 throw pillows
Two Bed Side Tables each topped with a Barebones Lantern & some fun reading material
Bath & Face Towels for each guest
Copper clothing rack with 6 hangers
Two 5x7 area rugs + a large Sheep skin rug
Two velvet floor pillows
Velvet Loveseat with two more throw pillows
Overhead lantern
Twinkle lights up the center pole
Books to read!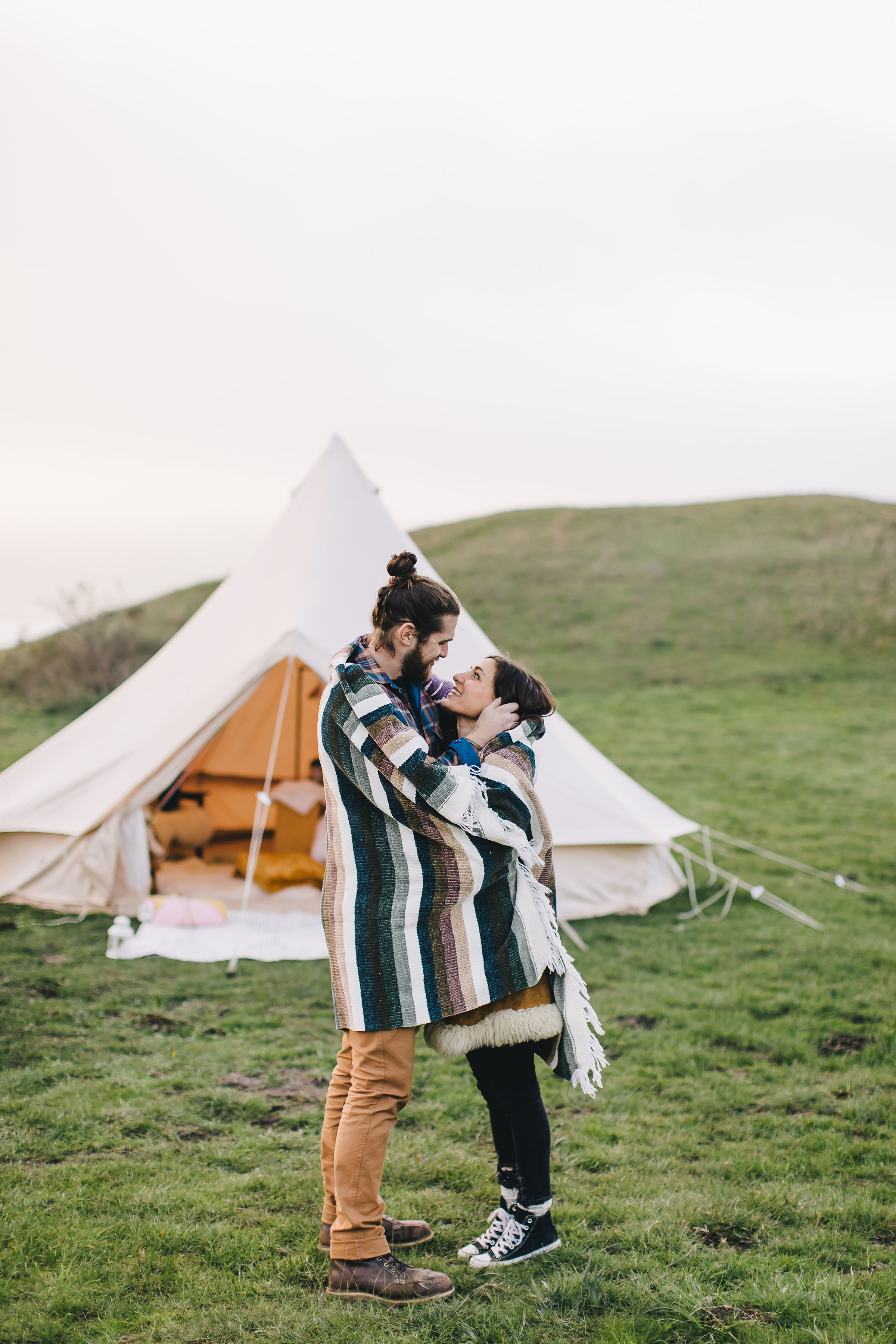 Coleman Cooler stocked with ice
Two Burner Propane Stove with a plenty of propane
Two Camp Chairs & Two Fireside Blankets
Cooking Utensils: spatula, bbq tongs, cast iron pan, tea-kettle, sauce pan, cutting knife and cutting board and table cloth
Flatware: two of the following: plates, bowls, fork, knife, spoon, camp cup and 6 cloth napkins
Firewood, lighter fluid, and lighter
Want us to find and book the campsite for you?
Hire our Camp Concierge Service
After we take your reservation, we will send you a form to fill out to gage where you want to stay then we will send you three options of campsites that are available for your dates - once we get the green light from you we will book it and send you a list of suggested adventures in the area.
Call or email us today to book your reservation!
info@anywhereoutpost.com
415.949.0244.